(Family Features) Take advantage of warmer weather by hosting an outdoor brunch serving an egg-tastic recipe that's sure to please your friends and family. Eggs Benedict Casserole is a do-it-yourself version of the restaurant classic, combining traditional ingredients with a spicy twist. Requiring only one dish for baking and serving, this recipe is perfect for special occassions and celebrations, or casual weekend brunches at home.
Here's a list of items to consider when preparing for your outdoor brunch:
Angelic Eggs - Take hard-boil eggs, remove the yolks and combine with mayonnaise, chopped salmon, dill, Tabasco Original Red Sauce and salt; then refill the egg whites and serve.
Dog-Day Fruit Salad - Combine your favorite fresh fruits, such as strawberries, blueberries and raspberries, with orange juice, orange peel, and honey.
Classic Bloody Mary - Combine tomato juice, vodka, Worcestershire sauce, lime juice and Tabasco Original Red Sauce; stir, and pour over ice. Garnish with a celery stalk.
For more brunch recipes, visit www.Tabasco.com.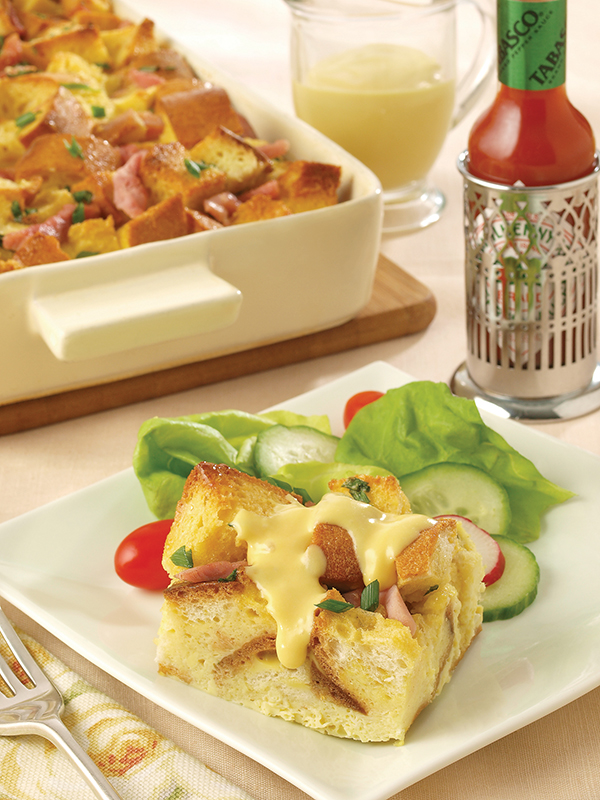 Eggs Benedict Casserole
6 cups French bread, cut into cubes
12 large eggs
1 1/2 cups milk
3 tablespoons fresh chives, chopped
1 teaspoon salt
2 1/2 teaspoons Tabasco brand Original Red Sauce, divided
12 ounces Canadian bacon, chopped
1 (9-ounce) package Hollandaise sauce
Preheat oven to 350° F.
Place French bread cubes in 8-cup shallow casserole dish. Beat eggs, milk, chives, salt and 2 teaspoons Tabasco sauce in large bowl; stir in Canadian bacon. Pour over bread cubes. Let mixture stand 5 minutes. Bake 40 minutes or until mixture is puffed and set.
Meanwhile, prepare Hollandaise sauce as package directs. Stir in 1/2 teaspoon of Tabasco sauce. Keep warm until ready to use.
Serve casserole with warm Hollandaise sauce.
Source: Tabasco
(Family Features) Burgers and dogs may be typical game day grub, but a lineup that never changes can get tiresome a few weeks into the season. Infuse new energy and homemade favorites into your game day menu so you can enjoy great games and good eats for a winning combination.
Explore new flavors. Add variety by building your meal around a different main dish, like ribs or pulled pork instead of burgers. Or invite guests to get in on the action and offer a DIY pizza or taco bar with a wide range of toppings for the ultimate custom plate. Then adapt your side dishes to fit the theme, like adding a barbecue spice seasoning to your party mix, for example, or offering a chipotle-style dip for veggies and chips.
Add an unexpected twist. If you prefer a more traditional menu, there's no reason to abandon all your favorite game day fare. Instead, reimagine a popular dish with a special or unexpected ingredient. For example, this recipe features a homemade pizza topped with creamy ranch dressing. An option like Litehouse Homestyle Ranch has no artificial colors, flavors or preservatives, no high fructose corn syrup and is gluten free. The dressing is a versatile addition to your game day spread since you can use it to top off everything from pizza and fries to tacos, burgers and more. For easy serving, look for the 20-ounce squeeze bottle, or opt for a glass jar or dip tub, whichever your recipe requires.
Don't forget dessert. A good game requires lots of savory, hearty foods, but by the fourth quarter, you're likely to start craving sweet victory and a sweet treat to go along with the win. Easy individual desserts are a great bet, that way you can grab a quick bite and get back to the screen before you miss any action. Think along the lines of finger foods like marshmallow cereal bars, brownies and cookies to offer a little something for everyone.
Find more ideas for your game day gathering at LitehouseFoods.com.

Homemade Pizza Recipe
Total time: 45 minutes
Serves: 4
1 ball pizza dough (store-bought or homemade)
1 jar pizza sauce
pepperoni (optional)
sausage (optional)
ham or Canadian bacon (optional)
black olives (optional)
mushrooms (optional)
peppers (optional)
1 package (8 ounces) fresh mozzarella, shredded
1 squeeze bottle (20 ounces) Litehouse Homestyle Ranch dressing
Heat oven to 425° F.
Prepare dough by pressing it onto a pizza pan or pizza stone. Spread pizza sauce over crust and top with pepperoni, sausage, ham or Canadian bacon, black olives, mushrooms and peppers, if desired. Sprinkle cheese evenly over top of pizza. Bake 20-30 minutes.
Top with ranch dressing before serving.
Note: Toppings can be substituted as desired.
Source: Litehouse Foods