(Family Features) The weeknight dinner meal can be a challenge...it must taste good, appeal to the family and be easy to prepare. Economical would also be a plus.
Sound like a tall order? Not when Salsa Verde Bean Enchiladas are on the menu. Just five ingredients...tortillas, prepared salsa verde, shredded Mexican cheese blend, cumin and canned Southwestern Bean Salad...are all that's needed for an easy Tex-Mex entrée.
The zesty bean salad, straight from the can, has just the right blend of chili powder and spices to provide a hint of heat to the black beans, kidney beans, corn and bell peppers. To make the filling, simply purée one can of the salad, and stir in a second can along with a dash of cumin. Spread onto corn or flour tortillas, roll up, and place in a baking dish. Pour on the salsa, sprinkle with the pre-shredded cheese blend and bake.
How easy is that? Add precooked chopped chicken or cooked ground beef or turkey to the bean filling if you like. Mixed greens and orange segments tossed with a vinaigrette would make a great accompaniment, or assorted favorite fruits would be tasty, too.
Southwestern Bean Salad is great to have in the pantry. It's equally delicious at room temperature or chilled. For a quick accompaniment, serve with grilled meats and poultry, burgers or sandwiches. Use it to top a mixed green salad, or add cooked pasta such as rotini or penne for a quick main dish pasta salad. Or, puree and serve as a zesty bean dip with tortillas.
For other great recipes made with READ salads, visit www.readsalads.com.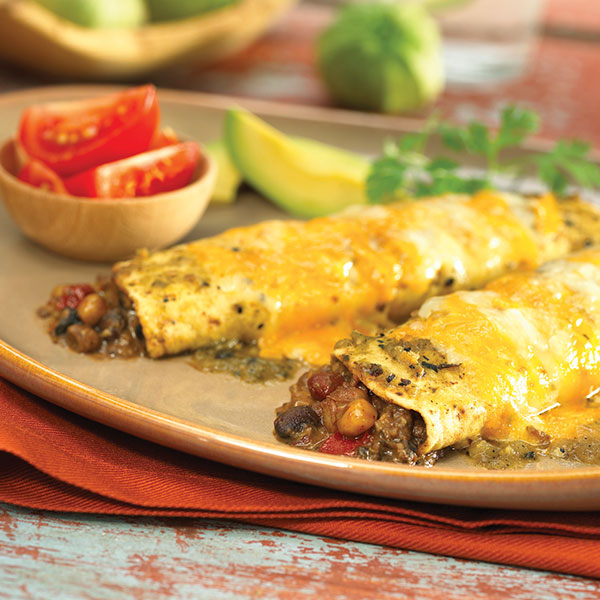 Salsa Verde Bean Enchiladas
Preparation Time: 20 minutes
Baking Time: 40 minutes
Standing Time: 10 minutes
2 cans (15 ounces each) READ Southwestern Bean Salad
1 teaspoon ground cumin
12 soft corn or flour tortillas (6 to 8 inch diameter)
2 cups prepared salsa verde
1-1/2 cups shredded Mexican cheese blend
Optional Toppings:
Sour cream, chopped avocado, fresh chopped cilantro, lime wedges
1. Drain 1 can of salad; discard liquid. Place in food processor. Process until pureed but still slightly chunky.
2. In large bowl, stir together pureed salad, second can of salad with liquid, and ground cumin. Spoon mixture evenly down center of tortillas. Roll up and place seam-side down in 13x9-inch baking dish sprayed with nonstick cooking spray.
3. Pour salsa verde evenly over enchiladas. Top with cheese. Cover with foil. Bake at 350°F 30 minutes. Remove foil; continue baking 10 to 15 minutes until beginning to brown around edges. Let stand about 10 minutes before serving with optional toppings, if desired.
Makes 6 servings.
Nutrition information per serving (1/6 of recipe): 418 calories; 15 g protein; 53 g carbohydrate; 16 g fat; 1438 mg sodium; 27 mg cholesterol; 9 g dietary fiber; 15 mg iron; 0.06 mg thiamin; 1224 IU vitamin A; 3 mg vitamin C.
(Family Features) As the fall season begins, kids go back to school and schedules once again book up with activities.
Between work, the carpool line and shuttling kids to extracurriculars, the increase in family commitments often leaves little time in the kitchen or at the dining table. Although the drive-thru is an easy solution, healthier options can be scarce and the cost of takeout piles up. Instead, add some quick family meals to your arsenal.
Southwestern Bean Mexican Pizza made with READ Southwestern Bean Salad is a fun twist on the Italian favorite that pairs perfectly with fruit, carrot sticks or a salad for a complete, family-friendly meal.
For an easy make-ahead option, grab a jar of Aunt Nellie's Beets and make Beef, Beet and Horseradish Wraps. Both recipes can help you have dinner on the table in 30 minutes or less.
For more quick and easy dinner ideas, visit READSalads.com and AuntNellies.com.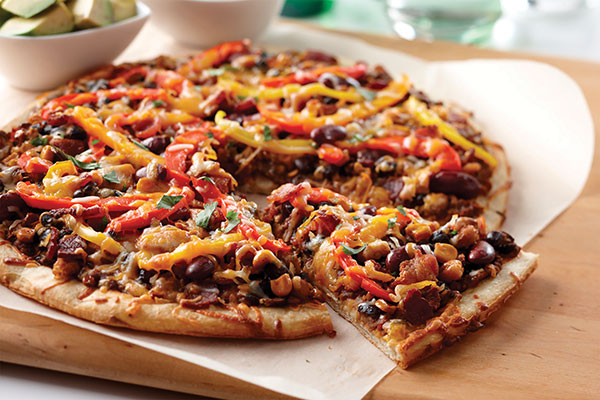 Southwestern Bean Mexican Pizza
Prep time: 15 minutes
Cook time: 10 minutes
Servings: 8-10
2 cans (15 ounces each) READ Southwestern Bean Salad
1 pre-baked pizza crust (10-12-inch diameter)
4 slices bacon, cooked crisp and crumbled (about 1/4 cup crumbled)
1/2-3/4 cup thin bell pepper strips (1/4-inch thick), any color or combination
3/4 cup shredded Mexican cheese blend
1/4 cup chopped fresh cilantro
chopped avocado (optional)
sour cream (optional)
Drain bean salads. Place half of beans in bowl of food processor; process until pureed but chunky.
Spread puree evenly over pizza crust. Spoon remaining drained beans over puree. Sprinkle with bacon, bell pepper and cheese.
Bake as directed on pizza crust package until heated through and cheese is melted, about 10-12 minutes.
Sprinkle with chopped cilantro. Serve with avocado and sour cream, if desired.
Nutritional information per serving: 276 calories; 11 g protein; 35 g carbohydrates; 10 g fat; 648 mg sodium; 14 mg cholesterol; 5 g dietary fiber; 11 mg iron; .02 mg thiamin; 575 IU vitamin A; 7 mg vitamin C.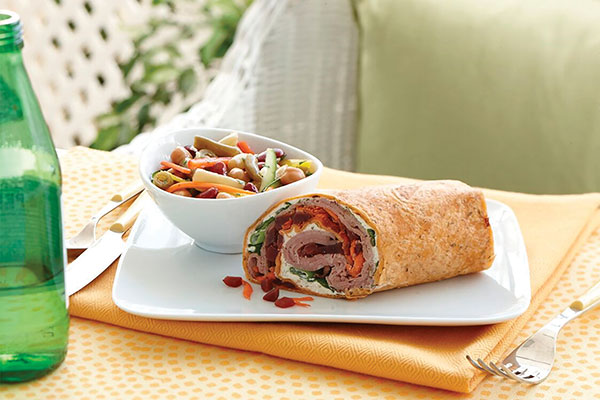 Beef, Beet and Horseradish Wraps
Prep time: 30 minutes
Servings: 4
1 jar (16 ounces) Aunt Nellie's Sliced Pickled Beets
1/2 cup shredded carrots
1 tablespoon prepared horseradish
1/2 cup spreadable cheese (such as goat cheese or herb soft cheese)
2 large soft flour tortillas (about 10-12-inch diameter)
10 green onions (green parts only)
10 thin slices deli roast beef
Drain beets; chop. Discard beet liquid. In medium bowl, combine beets, carrots and horseradish.
Spread 1/4 cup cheese evenly over each tortilla, leaving 1-inch border. Arrange five green onions (do not chop) on each; press lightly into cheese. Place five slices roast beef on each tortilla to cover green onions then sprinkle beet mixture evenly over beef.
Roll up tortillas in parallel direction of green onions. Wrap each roll tightly in plastic wrap. Refrigerate up to 4 hours.
To serve, remove plastic wrap; cut each tortilla into two pieces.
Substitution: If horseradish is too pungent, omit or replace with diced jarred roasted red peppers or Dijon mustard.
Nutrition information per serving: 300 calories; 17 g protein; 34 g carbohydrates; 10 g fat; 520 mg sodium; 35 mg cholesterol; 2 g fiber; 3.18 mg iron; .26 mg thiamin; 2963.87 IU vitamin A; 8.79 mg vitamin C.
Source:</>