(Family Features) Most parents know the first few weeks of school season and new daily routines can be hectic. From stocking up on school supplies to finishing up homework, there's few unused minutes in the day.
One thing that's particularly easy to forget in the mad dash to catch the bus or make it to morning drop-off is a well-balanced, protein-packed breakfast. According to a No Kid Hungry study, when students have a balanced breakfast in the morning, they are more likely to attend school and perform better on standardized tests.
Start the school year off right by giving your kids a breakfast they'll love that also provides the protein they need to kick-start their day. Recipes like Simple Ham and Waffle Breakfast Sandwiches or Baked Eggs in Avocado can be ready in minutes and provide fuel long past the first morning school bell.
As a simple time-saver, Smithfield offers pre-diced, cubed and sliced ham that can make breakfast a breeze any day of the week. Incorporate it into a simple breakfast sandwich for a protein boost you can enjoy on-the-go. Served crispy or chewy depending on your preference, Thick Cut Bacon also puts a savory spin on nearly any breakfast plate, whether paired with eggs and avocado or a simple side of toast.
For more information and breakfast ideas, visit smithfield.com.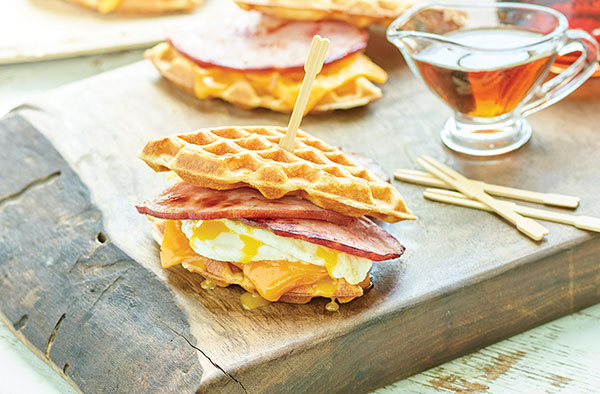 Simple Ham and Waffle Breakfast Sandwiches
Cook time: 30 minutes
Servings: 4
8 frozen prepared waffles, toasted
8 ounces Smithfield Anytime Favorites Quarter Boneless Sliced Ham, any flavor
4 large eggs
4 slices cheddar or American cheese
maple syrup (optional)
Prepare waffles according to package directions; keep warm.
In nonstick skillet over medium-high heat, cook ham slices until lightly browned, about 30 seconds per side; keep warm. In same skillet over medium heat, fry eggs until desired doneness.
Lay out four waffles and top each with sliced cheese, ham and fried egg, topping with remaining waffles to finish. Serve warm with maple syrup, if desired.
Tip: Try spreading fruit jam on your sandwich for a change of pace.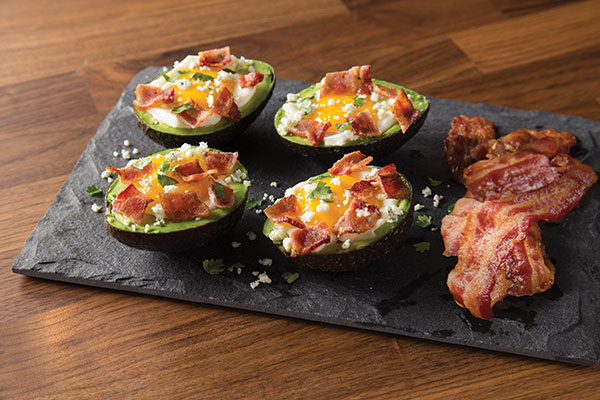 Baked Eggs in Avocado
Cook time: 10 minutes
Servings: 6
Nonstick cooking spray
3 large avocados
6 eggs
4 strips Smithfield Thick Cut Bacon, diced and cooked until crispy
1 cup blue cheese
1/4 cup fresh cilantro
Heat oven to 450 F. Spray baking sheet or glass baking pan with cooking spray. Cut avocados in half. Scoop out 1-2 tablespoons of avocado to create well for eggs. Place avocados flesh-side up on prepared baking sheet or glass pan.
Gently crack one egg in each avocado well, making sure to keep yolk intact. Bake 10 minutes, or until eggs reach desired temperature. Remove.
Top with bacon pieces, blue cheese and cilantro.
Source: Smithfield
(Family Features) It's the perfect time of year for families to get back on track and pledge to eat healthy lunches for the remainder of the school year.
Families that take the free Power Your Lunchbox Pledge can access nutritious and delicious ideas for lunch, after-school snacks and weekday family dinners, as well as coupons, tips and ideas for incorporating more fruits and vegetables into lunchboxes. The pledge website also features a collection of registered dietitian-approved recipes, including warm, hearty and healthy lunches like this Alphabet Vegetable Soup and kid-friendly, build-your-own lunchbox ideas like these tasty Wonton Taco Cups.
For teachers who want to incorporate the program into their classrooms, pledge resources such as nutrition-focused lesson plans, certificates for students and take-home materials for families are also available online. Teachers who take the pledge can win a $500 gift card for classroom supplies.
Taking the pledge not only signals a commitment to making healthier meal choices, it helps those in need. From Jan. 4 through Feb. 15, for every online pledge, companies supporting the Power Your Lunchbox Pledge will donate $1 to Feeding America programs that support families and children. For more information, visit poweryourlunchbox.com.
Alphabet Vegetable Soup
Recipe courtesy of Produce for Kids
Total time: 45 minutes
1 tablespoon olive oil
3 carrots, diced
2 cups organic baby kale
8 ounces snipped green beans, chopped
1 russet potato, peeled and diced
1/2 medium onion, finely chopped
2 quarts low-sodium vegetable broth
1 can (14 ounces) no-salt-added diced tomatoes
1 teaspoon salt
1/2 teaspoon pepper
1/2 teaspoon garlic powder
1 cup alphabet pasta
In large pot over medium heat, heat oil.
Add carrots, kale, green beans, potato and onion. Cook 5 minutes, or until softened.
Add broth, tomatoes, salt, pepper and garlic powder. Bring to boil, reduce heat to low and simmer, covered, 20 minutes.
Stir in pasta and cook 10 minutes, or until cooked.
Wonton Taco Cups
Recipe courtesy of Produce for Kids
Total time: 25 minutes
Servings: 8
3/4 pound lean ground beef
1 tablespoon low-sodium taco seasoning
1 Roma tomato
2 mini sweet peppers
1/4 small sweet onion
1 tablespoon chopped cilantro
24 wonton wrappers
1/2 cup shredded low-fat cheddar cheese
2 avocados, sliced
1 lime, juiced
Heat oven to 350° F. Spray 24-cup mini muffin pan with nonstick spray and set aside.
Heat large, nonstick skillet over medium heat. Add ground beef and cook 5-7 minutes, or until cooked through. Drain and return to pan. Add taco seasoning and mix well.
Add tomato, peppers, onion and cilantro to food processor and chop until fine (or finely chop by hand). Add to ground beef and mix well.
Line muffin pans with wonton wrappers, placing one in each cup. Add taco mixture and top with cheese. Bake 12-15 minutes, or until wontons start to brown on edges.
Meanwhile, toss avocados with lime juice. Top each taco cup with avocado.
Source: Produce for Kids