Main dish options for outdoor entertaining
(Family Features) Serving up an outdoor meal is a summertime staple for gatherings of all kinds – barbecues, celebrations, picnics and more. However, with so many options available and different styles for preparing the dishes, it can be a challenge for home chefs to decide what guests will go for.
Instead of racking your brain or spending hours searching for the right main course, consider these versatile options – one dish focused on chicken, one for beef and one for pork – that can send partygoers back for seconds.
Find more recipes perfect for outdoor gatherings at Culinary.net.
Serve Up Skewers
Ideal for simple family meals or full-blown summertime parties, these Honey-Lime Chicken Skewers are an ideal handheld food for outdoor meals. With just a handful of ingredients and an easy grilling method involved, they're tasty and tantalizing without taking your focus off all the fun and festivities. More honey-infused recipes are available at Honey.com.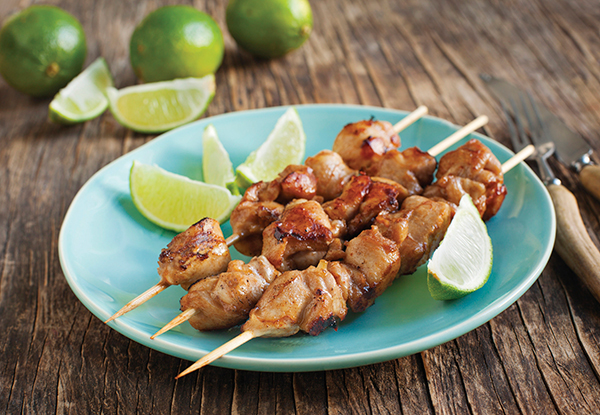 Honey-Lime Chicken Skewers
Recipe courtesy of The National Honey Board
Servings: 8
2 tablespoons honey
3 tablespoons soy sauce
1 tablespoon olive oil
1 lime, juiced
1 pound chicken breast strips, skinless and boneless
bamboo skewers
In small bowl, whisk honey, soy sauce, olive oil and lime juice until completely blended. Pour mixture into re-sealable freezer bag and add chicken strips. Seal bag and gently shake to cover chicken strips. Allow to marinate 2 hours.
Heat grill to medium-high heat.
Soak bamboo skewers in water 15 minutes. Remove chicken strips from marinade and skewer onto bamboo sticks. Grill 8 minutes, or until juices are clear and chicken is fully cooked.
Sweet Summer Refresh
Summer typically brings about both the desire to feel healthier and cravings for sweet, refreshing meals. When you rethink your food and focus on feeling better about your diet and yourself, the two can work hand-in-hand.
Liven up your summer entertaining menu with a delicious touch of reduced-calorie sweetness from Truvia in recipes like this sizzling Java London Broil. Celebrity chef Devin Alexander, featured on "The Biggest Loser," created this succulent recipe with less sugar by using Truvia Brown Sugar Blend, combining stevia sweetener with brown sugar to maintain the taste and texture of brown sugar with 75 percent fewer calories, for her latest book "You Can Have It!"

For more summertime recipe ideas, visit Truvia.com.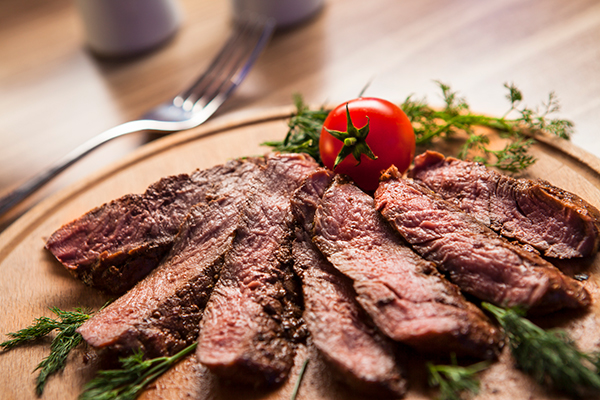 Java London Broil
Recipe courtesy of Devin Alexander from "You Can Have It!," copyright American Diabetes Association
Servings: 6
2 teaspoons freshly ground coffee
1/2 tablespoon Truvia Brown Sugar Blend
2 teaspoons freshly ground black pepper
1 teaspoon ground coriander
1/2 teaspoon dried oregano
1/4 teaspoon sea salt
1 London broil (1 1/2 pounds, preferably grass fed)
1 teaspoon extra-virgin olive oil
Heat grill to high.
In small bowl, add coffee, brown sugar blend, black pepper, coriander, oregano and salt; mix well.
Place London broil on cutting board or large plate. Drizzle 1/2 teaspoon of olive oil on each side of meat then rub all over. Sprinkle seasoning mixture over roast and rub in to evenly cover meat.
Grill London broil to desired doneness, about 3-5 minutes per side for medium rare. Tent meat with foil for 5 minutes then slice into thin slices, cutting at an angle against the grain.
Sweet and Savory Ribs
By starting these Grilled Sticky Ribs in the oven before finishing them off on the grill with a sweet chili glaze, home cooks can help make summer festivities stand out without spending hours at the grill or smoker. The Asian-inspired finish of the glaze gives guests a unique taste to savor while soaking in the summer sun. Visit verybestbaking.com for more recipes from Nestlé.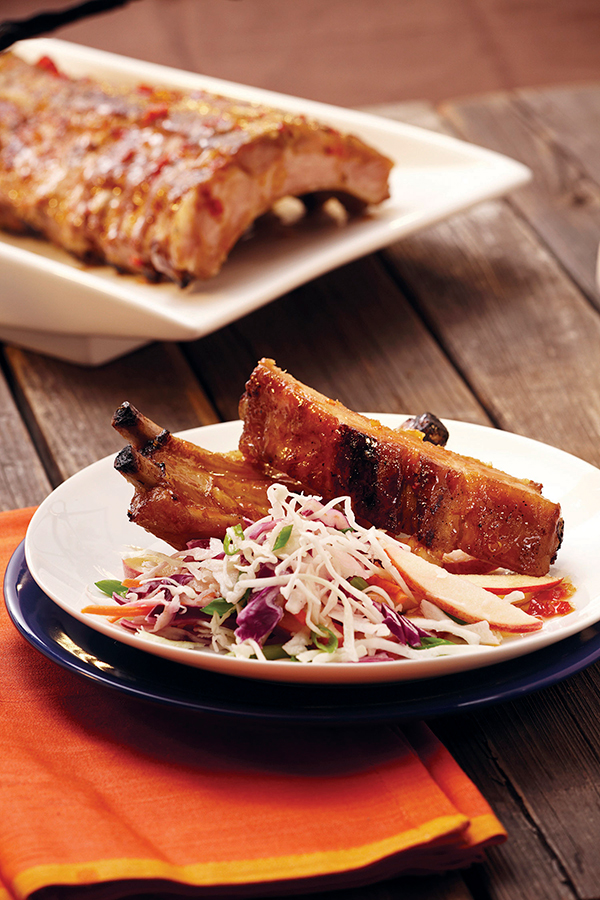 Grilled Sticky Ribs
Recipe courtesy of Nestlé
Prep time: 20 minutes
Total time: 3 hours, 35 minutes
Servings: 5-6
2 racks (about 4 pounds) baby back ribs
garlic salt
ground black pepper
1/2 cup water
1 tablespoon vegetable oil
1/4 cup finely chopped red onion
1 teaspoon finely chopped garlic
1 teaspoon grated fresh ginger
3/4 cup sweet chili sauce
1/2 cup Apple Nestlé Juicy Juice 100% Juice
1 tablespoon rice wine (mirin)
Heat oven to 300° F. Using knife, remove membrane from bone side of ribs. Pat ribs dry with paper towel; season both sides liberally with garlic salt and pepper. Place ribs in large roasting pan, overlapping as needed. Add water to pan. Cover tightly with aluminum foil.
Bake about 3 hours, or until meat is tender but not quite falling off bones.
In small saucepan over medium-high heat, heat oil. Add onion; cook, stirring occasionally, 2-3 minutes, or until soft. Stir in garlic and ginger; cook 1 minute. Stir in sweet chili sauce, apple juice and rice wine. Reduce heat to low; cook 8 minutes, or until sauce is reduced to about 1 cup.
Heat grill to medium heat.
Brush glaze over tops of ribs. Grill 4-5 minutes, or until sauce caramelizes. Serve with remaining glaze.
Photos courtesy of Getty Images (Honey-Lime Chicken Skewers, Java London Broil)
Source: Culinary.net
(Family Features) Some of the first foods that come to mind when considering dining outdoors are greasy, messy meals. Instead, opt for a nutritious outdoor experience with a turkey wrap, grain bowl or chicken salad for a backyard bite that doesn't go overboard.
Find more nutritious recipes for outdoor dining at culinary.net.
Lunch On the Go
A healthy combination of plant-based foods and turkey easily turns into a quick lunch. This wrap brings together a variety of textures with crunchiness from the apples and spinach, substance from the turkey and creamy, simple dressing. Find more quick, healthy recipes at aicr.org.
Turkey, Spinach and Apple Wrap
Recipe reprinted with permission from the American Institute for Cancer Research
1 tablespoon reduced-fat mayonnaise
2 teaspoons honey mustard
2 whole-wheat lavash wraps or flour tortillas (8 inches each)
2 cups baby spinach leaves, loosely packed, washed and dried
4 thin slices turkey breast
1/4 Granny Smith apple, sliced paper-thin
Combine mayonnaise and mustard. Lay out both wraps. Spread edges of each with mayonnaise mixture.
Leaving space on one side of wraps, arrange layer of greens on top of wraps. Top each layer with two slices of turkey. Evenly divide apple slices and lay lengthwise across turkey. Fold over one end of wrap then both sides. Roll wrap as tightly as possible toward opposite side.
Cover each wrap tightly in plastic wrap and refrigerate seam-side down, up to 4 hours, before serving. To serve, remove plastic wrap and cut each wrap in half at an angle.
Substitution: Two large leaves of soft, leafy green lettuce can be used in place of baby spinach leaves.
Greens and Grains
Dedicating more of your plate to fresh-from-the-garden produce as well as rice and grains can lead to a healthier lifestyle, according to Cheryl Forberg, registered dietitian and award-winning chef and nutritionist for "The Biggest Loser."
To start living healthier and greener lives, Forberg recommends starting a garden. This hands-on approach is a fun way to learn about nutrition and where food comes from. Following produce from seed to plate can compel you to eat more healthfully.
Forberg furthers her personal dedication to the seed- to-plate journey through her involvement with Seeds of Change, which invests in healthier and greener communities by offering both organic seeds and foods, and delivers an annual grant program that benefits school and community gardening as well as farming programs. This year, the grant program will award $310,000 to participants who plan to help their communities and teach people about sustainability and where fresh food comes from.
Learn more about starting a community garden and living a greener, healthier life at seedsofchangegrant.com.
Warm Grain Bowl with Wild Salmon, Almonds and Salsa Verde
Total time: 20-25 minutes
Servings: 8
8 wild salmon fillets (3 ounces each)
sea salt, to taste
fresh pepper, to taste
2 tablespoons extra-virgin olive oil, divided
1 cup asparagus, cut into 2-inch pieces
1/2 cup shitake mushroom caps, sliced
1 package Seeds of Change Quinoa, Brown & Red Rice with Flaxseeds
1/4 cup slivered almonds
Salsa Verde (optional):
1 bunch scallions
1 clove garlic
1/2 cup packed cilantro leaves
1/2 cup packed mint leaves
1/2 cup packed basil leaves
1/2 cup lemon juice
1/3 cup extra-virgin olive oil
Heat oven to 400° F.
In oven-proof pan, season salmon with salt and pepper, and drizzle each fillet with olive oil. Bake 12-15 minutes, until cooked through.
In blender or food processor, combine all Salsa Verde ingredients and pulse until fully incorporated but still rustic and chunky. Set aside.
In medium saute pan over medium-high heat, heat remaining olive oil. Add mushrooms and asparagus and saute vigorously 3-5 minutes. Add grains and slivered almonds, and continue to saute until heated through, about 5 minutes. Adjust seasoning with salt and pepper, to taste.
Divide grains among eight plates, place a piece of salmon on each plate then finish with dollop of Salsa Verde, if desired, and serve.
Substitution: Shitake mushroom caps may be substituted with button mushrooms or other wild mushrooms.
Savory Salad
Even when you plan to take dining outdoors, a tasty salad still makes for an ideally nutritious meal. This salad brings together an assortment of veggies for a Tomato-Cucumber Salsa to top succulent baked chicken and greens. Find more recipes perfect for dining al fresco at chickenroost.com.
Baked Greek Chicken Salad
Recipe courtesy of the National Chicken Council
Servings: 4
Tomato-Cucumber Salsa:
2 plum tomatoes, diced
1 small cucumber, peeled and sliced
1/2 green pepper, julienned
1/4 purple onion, sliced
2 tablespoons red wine vinegar
1 tablespoon olive oil
2 tablespoons vegetable oil
1/8 teaspoon freshly ground pepper
1/8 teaspoon salt
1/8 teaspoon basil
1/8 teaspoon oregano
1/8 teaspoon Greek seasoning
1/8 teaspoon sugar
1/8 teaspoon dry mustard
Salad:
4 boneless, skinless chicken breast halves
1/4 cup melted butter
1 lemon, juiced
1/4 teaspoon freshly ground pepper
1/2 teaspoon garlic powder
1 teaspoon oregano
1 teaspoon Greek seasoning
1 package mixed Italian salad greens
2 ounces feta cheese, crumbled
black olives
pepperoncini peppers
To make Tomato-Cucumber Salsa: In medium bowl, mix together tomatoes, cucumber, green pepper, purple onion, red wine vinegar, olive oil, vegetable oil, pepper, salt, basil, oregano, Greek seasoning, sugar and dry mustard. Chill until ready to serve.
Heat oven to 350° F.
Place chicken in baking dish. In medium bowl, mix together butter, lemon juice, pepper, garlic powder, oregano and Greek seasoning; pour over chicken. Bake about 50 minutes, uncovered, basting occasionally.
Place salad greens in large serving bowl. Top with Tomato-Cucumber Salsa. Slice chicken in thin strips and arrange on top of salad. Sprinkle with feta cheese and garnish with olives and pepper.
Photos courtesy of Getty Images
Source: Culinary.net